Nail Services
Finding a nail salon in Fresno is easy, but finding a talented and competent manicurist is another story. Whether you are seeking a manicure for natural nails…Rock Star fingers and toes…hand-painted flowers…Imagination Art... or anything in between…you have found the perfect shop for your nail services

Immaculate cleanliness is our first priority. We take meticulous care to ensure that all tools and equipment are properly handled and sterilized. We carefully follow or exceed all State regulations related to proper sanitation procedures of all tools and equipment, including one-time use of files, buffer blocks, and wood sticks.

On the Menu
This pedicure will target cracked, dry feet by using a seaweed scrub to exfoliate, followed by a luxurious foot massage using heated stones. This treatment will relax your clients, and smooth and soften feet.
by Tracy Rubert , managing editor. May 17, 2016
Shopping List
o Footlogix Formula 13 Foot Soak
o Footlogix Formula 18 Callus Off
o Footlogix Formula 15 Exfoliating
Seaweed Scrub
o Footlogix 19 Massage Formula
o Hot stones
1. Soak the client's feet for five minutes with approximately four pumps of Foot Soak.


5. Apply two pumps per leg of Massage Formula. Use heated stones to massage the feet and lower legs for 15 minutes.
6. Remove any excess oil and clean the nail plate. Apply a base coat, two coats of polish, and a top coat of your choice.
​Price: $75
Tweak this Recipe:
Use a volcanic stone for additional exfoliation, and use an alternate name, such Hot Lava Pedicure.

---

​2. Trim and file the toenails. Push back and trim the cuticles. Spray Callus Off on the toenails to help clean up cuticles more easily after the first treatment.
3. Spray Callus Off on the bottom and sides of the feet, and wrap the feet, first in plastic and then in a hot, moist towel. Let the feet rest for about five minutes.
4. Remove the towels and plastic and smooth the feet with a foot scrub. Use one pump of Seaweed Scrub on each foot and lower leg area; lightly exfoliate the area and rinse well.

Gorgeous finished product!

---
Pedicure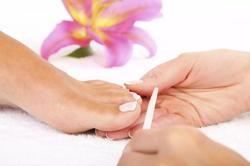 We will carefully tailor your pedicure to complete your look, whether you wish to give your nails an all-natural, healthy glow with a natural pedicure, paint your favorite dark color, or achieve a result somewhere in between.
---